THE MOUNTAINS AROUND ROHTANG FORMED MY MENTAL GEOGRAPHY
I have memories. i have always enjoyed going off to the mountains, unplanned. Planned holidays, somehow never seem to work out for me. I like the idea of exploring remote places, which normal tourists stay away from. I love to take off on my own. That somehow puts me in touch with myself. I love driving cross- country, but you never really get to feel the place unless you walk through it, touch it, feel it. I love trekking through the wilderness. These are my wanderings. It is my time to reflect.
I was very fond of the Kullu valley as a child. My parents used to take us there for the two months of our summer vacations. My Dad had a weakness for the mountains - Manali, Rohtang, Kothi, Ralha, Madhi—all these places. He used to write and my mother used to paint.. The rugged mountains of Rohtang formed my mental geography. We would hire a cottage in the middle of the apple orchard just outside of Manali. I remember having apples for breakfast, apples for lunch and apples for dinner. Kabhi apple ki sabzi, kabhi salad, kabhi apple ka stew etc.
Later when I returned from New York to become an actor, I would keep going back to the valley and discovering little new areas all over the place. Naggar has been my favorite hide-out. I have been fascinated by Nicholas Roerick's work. He was a Russian painter who had fallen in love with this little village and settled down here. His daughter-in-law, was the famous actress of yester years - Devika Rani.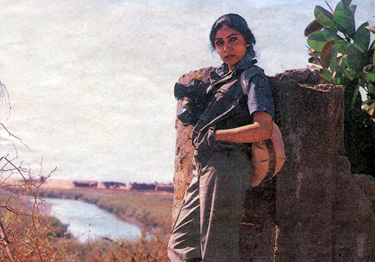 Wandering with my camera in the early 80s
In the early 80s, the valley was much quieter. Each time my shooting got cancelled and I had a few days on hand, I would take off for the hills. Get on to the evening flight to Delhi – pick up a friend and go straight to the local bus stop, wanting to get on to the bus to Kullu. The guy at the ticket window would say 'Kullu ki bus nahin laggi ji!' So we'd ask, 'Kahan ki lagi hai?' 'Dalhaujji ki laggi hai ji' – to which we'd promptly say 'Achcha theek hai, Dalhaujji ki ticket de dijiye!' That's how we traveled. Nima and I. Totally spontaneous! I did this when I was at the peak of my popularity, just after films like 'Ek Baar Phir', 'Chashme Baddoor' and 'Hum Paanch'. People couldn't believe it was Deepti Naval sitting in the bus next to them, but I would pretend I was someone else. I loved it.
For years I wandered in the Himachal region going to remote areas of Kinnaur, Lahaul and Spiti. Then I discovered Ladakh!
LADAKH CAPTIVATED THE POET IN ME
It was the summer of 1995 when I first went to Ladakh. I had always been intrigued by the terrain, passionately drawn to it, but had never ventured beyond Lahaul and Spiti. I had been happily trekking in Himachal for years till I discovered Ladakh.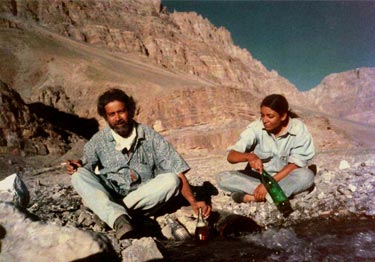 Taking a break from driving, Vinod & I - in Spiti valley - 1995

The landscape itself, the vastness, the sheer enormity of space in that desert mountain region - for me all that was fascinating. I got hooked on to it. I knew I'd keep coming back.
As a child I had seen that Ladakh in a film called 'Haqeeqat' made by Mr. Chetan Anand. It was a war film and the landscape they showed, got embedded in my mind even then. Now after all these years I finally got to see it for real.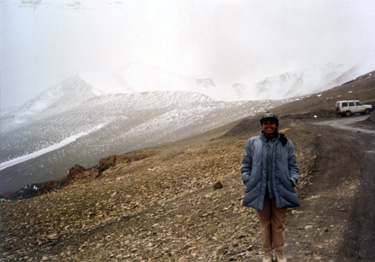 Standing on the high pass - Baralacha La - on way to Leh
It was the month of August, 1995, when Vinod and I drove off from Bombay all the way to Leh. We did not take the Manali Leh route. Instead we went all the way around from Simla, towards Kinnaur valley, which had opened up just a few years ago, moving on to Spiti, Lahaul, and finally ending up in Leh, Ladakh. We were on the road for two months, driving alternately for hours together, in silence, mesmerized by the mountainscapes around us - stopping along little villages bordering Tibet and at times, China. The beauty of the terrain overwhelmed me. That's how Ladakh came into my mental and spiritual landscape.
Leh was full of people from all over the world. Some person is writing a book on the frescoes in the monasteries, someone else is doing a research on Buddhism, some person working on a travelogue. People, a whole lot of them, full of wonderful ideas. During the day everyone is out sightseeing or trekking, visiting the gompas and then in the evening people gather in restaurants and little pubs to exchange notes. It is so wonderful to be in a city like this.

Now I am addicted to driving. From Bombay to Ladakh.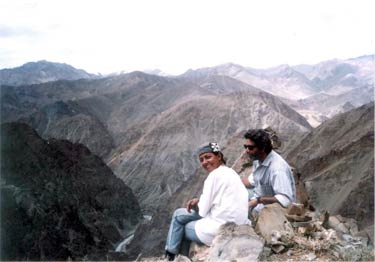 On our way to Lamayuru

But it was the winter landscape that intrigued me most. The first winter trip was in January 1998. The film festival in Delhi had ended and Vinod was returning to Bombay. I decided to take a flight to Leh instead. I was wandering all over the place by myself. This time it seemed like a new terrain. The colors had changed. The whole landscape was innumerable shades of grays and browns. All the tiny green patches had disappeared. Ladakh in the winter is more intriguing, more spaced out.
I can go on and on writing about my treks over the years, but what I'd like to share with you here is an unforgettable experience, which happened in the winter of 2004 - my Frozen River trek. It is not just a trek, it actually entails rock climbing, crawling, wading through icy waters, walking, falling, cliinging, crawling, everything... It is called the Tchadar Expedition.
The Tchadar Expedition in the Zanskar valley of Ladakh