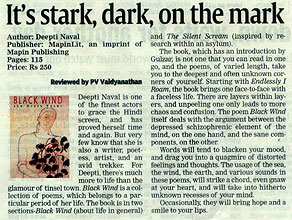 IT'S STARK, DARK, ON THE MARK
DNA, MUMBAI - SEP 6, 2005
Reviewed by PV Vaidyanathan
Deepti Naval is one of the finest actors to grace the Hindi screen, and has proved herself time and again. But very few know that she is also a writer, poet, artist and an avid trekker. For Deepti, there's much more to life than the glamour of tinsel town. Black Wind is a collection of poems, which belongs to a particular period of her life. The book is in two sections- Black Wind (about life in genera) and The Silent Scream (inspired by research within an asylum).
The book, which has an introduction by Gulzar, is not one that you can read in one go, and the poems, of varied length, take you to the deepest and often unknown corners of yourself. Starting with Endlessly I Roam, the book brings one face-to-face with a faceless life. There are layers within layers, and unpeeling one only leads to more chaos and confusion. The poem Black Wind itself deals with the argument between the depressed schizophrenic element of the mind, on the one hand, and the sane components, on the other.
Words will tend to blacken your mood, and drag you into a quagmire of distorted feelings and thoughts. The usage of the sea, the wind, the earth, and various sounds in these poems, will strike a chord, even gnaw at your heart, and will take into hitherto unknown recesses of your mind.
Occasionally, they will bring hope and a smile to your lips.